Shreya, Mylou and Sarah first met at a protest site where they chanted slogans for equality and have since been working and sharing solidarity together. Their values reflect their diverse, yet alike, ambitions for the future; how our presence within it can be harnessed to sustain and celebrate our relationships while centring our environments.
Singing in a choir helps one extend themselves, and get insync and intune with others. The process helps in creating a sense of engagement with other people, establishing a rhythmical harmony between them.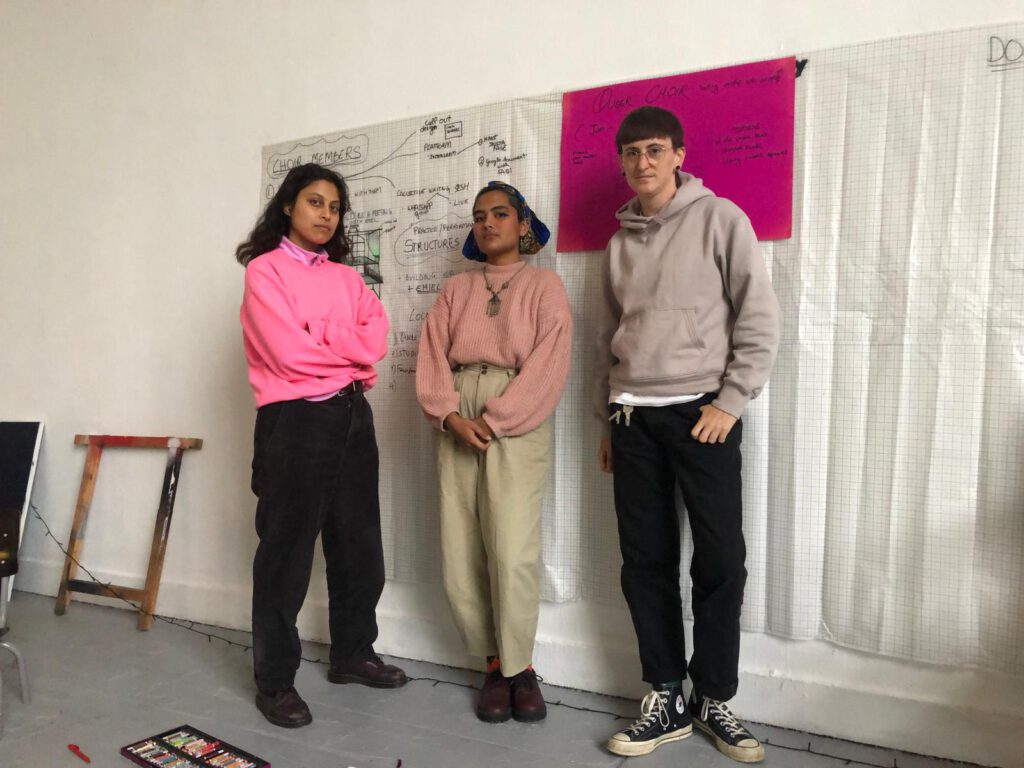 Shreya de Souza (she/her)
Shreya de Souza (India/Portugal, 1995) is an artist living and working in Amsterdam. She is interested in power struggles, the incessant male gaze, the othering of queerness, 'western ideals' and normative heterosexuality that hold and control present day society.  With these interests,  different media are used to tell stories, build & foster community around those that don't fit into these normative modalities and challenge the way we come together and represent ourselves.
Mylou Oord  (they/them)
Mylou Oord is an interdisciplinary artist whose primary focus has long been in the field of social equity within the realm of mental health, accessibility, queerness and class struggle. Their practice is largely driven by their subjects of interest and their involvement in its discourse. As writing and audio visual work is the primary medium in their artistic practice, their engagement with audiences remains instrumental and hence is the driving source of their inspiration. 
Sarah Naqvi (she/they)
Sarah Naqvi is an Indian artist, based in Mumbai/ Amsterdam. Her work engages in narratives themed around religious and societal stigmas. She had her first solo exhibition Bashaoor, at Clark House, Mumbai in 2018, followed by her second solo exhibition, Sharam o Haya, at Ame Nue, Hamburg in 2019. In the same year, she was part of a group show with Akinci, titled, Heroines Now, 2019,. Naqvi has been part of other group exhibitions namely, A beast, a god, a line,  Para Site, Hong Kong, curated by Para Site Director, Cosmin Costinas. Her work has also shown at TS1 Yangon, Yangon, Myanmar (June 6 – 22, 2018);  Museum of Modern Art, Warsaw, Poland (Jul 20 – Oct 7, 2018); Kunsthall Trondheim, Norway; MAIIAM Contemporary Art Museum, Chiang Mai, Thailand; Apexart NY सावधान: The Regimes of Truth, curated by Shaunak Mahbubani, New Delhi (2018); Micro subversions Playbook, Conflictorium, Ahmedabad, curated by Avni Sethi and Venkataraman Divakar; and The Exhaustion project, Haus der Kulturen der Welt, Berlin, curated by Abhijan Toto. Her recent shows include Hunger at Akinci gallery, Inherited Memory at Tarq, Mumbai, and Escape Routes at the Bangkok Biennale 2020.
Vera Morais (she/her) 
Vera Morais is a singer, improviser and composer based in Amsterdam, The Netherlands. Born and raised in Porto, Portugal, she studied classical music at Conservatório de Música do Porto and received a bachelor in jazz vocals from ESMAE – Escola Superior de Música e Artes do Espetáculo. She then moved to The Netherlands to continue her studies at the Conservatorium van Amsterdam. Vera has performed with several ensembles and big bands and worked as a voice teacher, choir director, arranger and assistant producer for small musical  theatre productions in her home country. She recently recorded for the debut album of the Portuguese rock band Feynman, "Mecânica Exacta"; and is currently working on a new Amsterdam based trio project, Pássaro Migratório.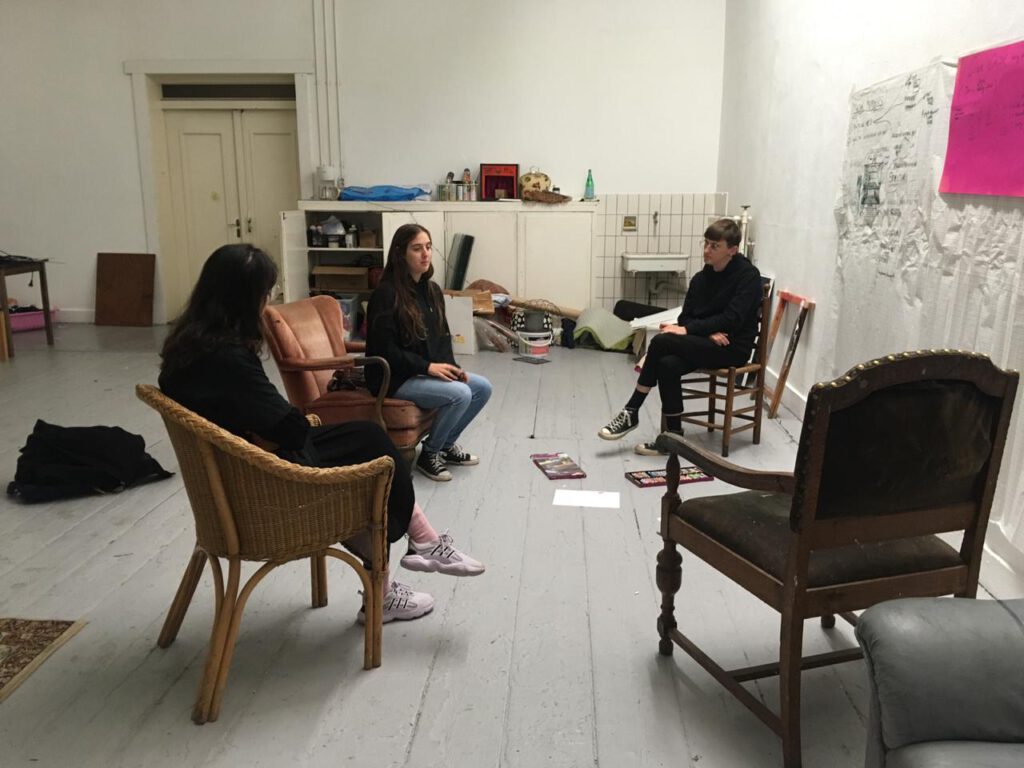 One of our first meetings in real life with Vera.